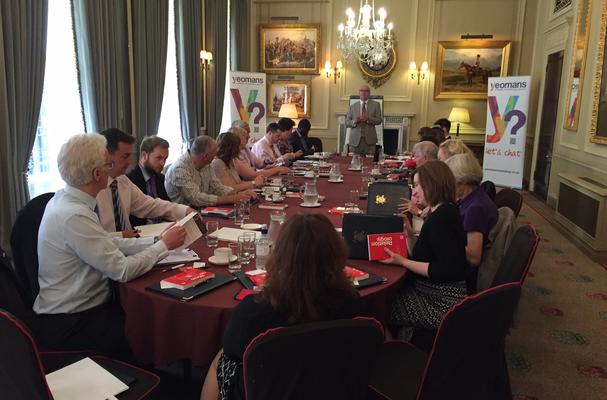 Major Donor Masterclass – Developing major gifts as an income strategy for your charity
By

Claire Fuller

|EventsFundraisingNews |14 March 2017
Join us and our inspiring host Matt Bird for our next Major Donor Masterclass on 25th May 2017.
Designed for CEOs, Trustees, Directors, Fundraisers and Major Donor Fundraisers, this popular one day event aims to develop knowledge, inspire confidence and help you "raise your game" with major donor fundraising.  Whether you're new to Major Donor Fundraising or a seasoned professional, this event is designed to meet your fundraising needs, being packed full of case studies, valuable insights and practical advice to use straight away.
What do previous attendees say about our Major Donor Masterclass?
"Matt grounded the issue really well – making it not seem as daunting as it can"
"Excellent – Reinspired me!"
"Attending the Major Donor Masterclass has given me the tools and confidence to take our fundraising to a new level. It is rare to be given such an inside track into an area that many fear to tread" – Angie Campbell, Senior Pastor of C3 Cambridge
"The content was very good. Matt is brilliant at sharing his insights and life"
"If put into practice, the learning I gained will affect a sea-change in my organisation, not merely in terms of how we operate, but in increasing our capacity to fulfil our mandate to the people we serve" – Susie Hart MBE, Craft Aid International
"I recommend this day. Matt progresses through a strong framework that has left Fegans with a robust and clear plan. This is money well invested" – Ian Soars, CEO of Fegans
"After never previously giving consideration to major donor fundraising, I found the day to be a priceless investment!" – Niky Dix, Director of International Health
10 key benefits of attending the Masterclass:
Learn how major donor giving can grow your charity rapidly and help you change the lives of your beneficiaries

Meet a major donor and hear them talk about why they choose to give to some charities and not others

Hear the story of charity growth from zero to £1million+ in 2 years through major donor fundraising

Understand the ethics of having a bias towards major donor fundraising

Start to sharpen your own major donor strategy and determine your next steps to success

Develop a more compelling case for major donor support

Learn how to ask a major donor for money and how not to

Take away 5 practical strategies you can implement immediately to help you meet prospective major donors

Become confident when meeting major donors and overcome your own 'gremlins' about "making the ask"

Ask a major donor and a seasoned major donor fundraiser any of your unanswered questions
Where and when does the Masterclass take place?
Location: Cavalry and Guards Club, 127 Piccadilly, London, W1J 7PX (closest tube station: Green Park)
Date: Thursday 25th May 2017
Time: 9:30 – 16:00 BST
Ticket Prices: £227 per person for charities with an annual income of less than £100k (Early bird price = £197 per person if spaces are booked by 25/04/17).  £277 per person for charities with an annual income greater than £100k (Early bird price = £247 per person if spaces are booked by 25/04/17)
About our expert host for the event
We are excited to be working once again with Matt Bird as the host and lead of this event. Business and social entrepreneur Matt Bird is a seasoned philanthropist and major donor fundraiser who:
Founded and leads the fast-growing social impact and micro-finance charity 'Cinnamon Network'

Chairs the Christian Funders' Forum who individually grant more than £30million pa.

Co-created 'Dragons Den' style event for charity on behalf of major donors which generated £1.5million

Helped start the philanthropist support community Generous Journey

Led the major donor fundraising for Soul in the City raising more than £1million

Is a member of WEA 'Council for Business and Ministry Finance'
How to book your space:
Spaces for our next Major Donor Masterclass are limited and must be booked in advance.  To book your space now please click here
If you have any further queries about this event, please email us and we'll be very happy to help.
Please note: If you book onto this event and find you're not able to make it, cancellations can be made without charge prior to 11th May 2017. After this date we regret that no refunds are available. Substitutions can be made at any time (although dietary requirements will need to be advised in advance to ensure we can prepare appropriately).
Contact Us