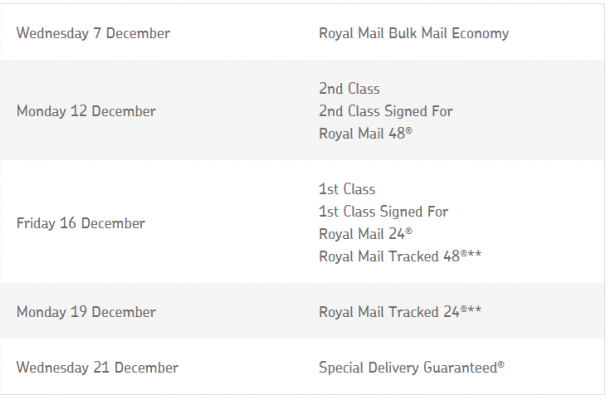 Royal Mail announce revised last posting dates
By

aqs

|News |07 December 2022
Royal Mail have brought forward their latest recommended posting dates for UK mail to help manage any impact from further strike action by the Communication Workers Union (CWU) during the festive season.
Although they have offered an apology for any inconvenience suffered during the industrial action, the knock-on effect to your supporter or customer mailings could be huge.  
Christmas appeals for support, invitations to events and prayer guides for supporters are carefully planned by the marketer to land at just the right time on the supporter's doormat - but now even the most ardent planner will be pulling their hair out trying to work out exactly when to mail.
For your larger consignments we can use alternative suppliers to ensure bulk copies of magazines and other literature don't get delayed in the brouhaha that this industrial action causes.  However for your letters there is little alternative to the Royal Mail's service - even the DownStream Access (DSA) suppliers use the Royal Mail to deliver the 'final mile' from the local delivery offices to the doormat.
Disruption is compounded at this time of the year, there's increased quantities of mail due to it being Christmas, so any delays just mean the backlog takes longer to clear.  We are certain that the Royal Mail will focus on sorting and delivering the oldest mail first, so even if you avoid mailing on days when industrial action is taking place, it's not guaranteed that your postal items will be delivered to the Royal Mail's usual delivery aims of next working day for first class mail, two to three working days for second class mail and four working days for economy mail.
So what can you do to get your message out when you want?
Firstly, talk to us.  We will help you plan your mailing to avoid as much of the disruption as we can. 
Secondly, avoid strike days and the two days immediately after them.  The strike days are announced as Friday 9th, Sunday 11th, Wednesday 14th and Thursday 15th December.  We appreciate that this pretty much wipes out most of the week commencing 12th December!
If you would like any help in the planning of your mailings, or to discuss alternatives, please contact us by emailing your dedicated Account Manager or emailing sales@weareyeomans.co.uk; or by calling us on 01892 839280
Contact Us