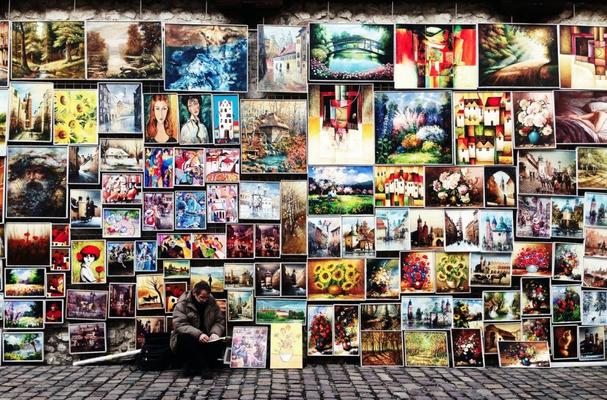 How to make your print stand out in the digital world
By

Claire Fuller

|CreativeMarketingFundraisingConsultancy |06 March 2019
Our reliance on phones and tablets might suggest that we now live in a completely digital world, so just how relevant is print in today's society?
From the moment we wake, to the moment we sleep, we are bombarded with rich content on screens seemingly everywhere. You could be forgiven if you thought that print was indeed dead – however it is perhaps the very reliance on digital media that makes this 'sleeping giant' even more important – your secret weapon in getting the cut-through that you desire!
I still love to read a real book, on real pages, it transports me away to another time and space and entirely captures my attention.  There are no pop-ups to disturb me, no messages taking my attention, or notifications of news headlines to take me away from the page I'm reading. I therefore can't help wondering whether print is, in itself, the very thing that can help you actually stand out from the crowd? 
There's good reason why Direct Mail still generates significant income for fundraisers.
Printed content has to work hard to get my attention. It has to persuade me to read on, or even to interact with it, but once I'm drawn in my dwell time is significant, particularly when I compare this to how long I spend dwelling on posts in my social media news feed!
Let's face it, we're all busy. Do I "judge a book by its cover"?  Absolutely I do!! So when deciding to use printed pieces as part of our armoury we have to work harder than ever to fight for the attention of our audience – but once we have it, the results can be astounding!
Whilst on the face of it, some campaigns may look very similar in print and digital format, in my eyes, the art of designing to stand out in print is very different to digital.  Just take a look at the following tips:
5 Helpful hints to help you stand out in print:
Remember that

quality makes an impression – We are used to seeing hundreds of images flash before us on screens each day.  We scroll by so quickly that the size or resolution of the image often doesn't matter.  This is not so with print where the choice of a high resolution image; crisp, bold graphics; or a sensitively chosen photo can draw your audience in, hold their attention and encourage them to read on and find out more

Choose your words carefully

– How many times have you posted something on a blog or social media post then had to hit the "edit" button because you spot a spelling mistake, grammar issue, or even find your post was completely misunderstood? Part of the beauty of print is in it's permanence – there's no going back when the ink is committed to the page (unless you're prepared for a costly reprint). Take time to craft your printed work – run it through grammar and spelling checkers and ask other people (ideally from your target audience) to proofread and sense-check it.  Investing in printed materials is not a cheap option so you should ensure your copy is robustly checked and given the best possible opportunity for success!

Use the personal touch

– We've all received the blanket "Dear friend" email, or viewed an online ad that appears to have no relevance for us whatsoever, so when you're investing in print it's important to produce items that are relevant for your intended audience. Delivering content that directly engages with the needs and motivations of your audience, rather than simply being an opportunity to "sell" your product or mission can have a great impact

Don't over-complicate things

– A cleverly worded piece of content, or use of "special effects" can have a great impact (particularly in the digital environment), but when creating printed content it's good to remember that it's likely to stay on desks, or be on a notice board for longer than the fleeting memory of a digital ad.  Don't underestimate the effectiveness of keeping your messaging simple and clear, and using traditional, time-honoured effects to create a lasting piece of great quality content

Recognise that technology does exist

– I know you're creating a piece for print but there's no denying that most people who see your content will have a phone or tablet with them, so why not encourage them to use it too? Including links to online content demonstrates that you are thinking of your audience (and the ways they're likely to get involved) as well as being a great way to encourage them to engage beyond the initial piece of print
We live in such a busy world that finding a way for your content to stand out is vital.  Making an impact (in subtle or direct ways) is the first step in grabbing the attention of your audience.  It provides a great starting point for them to engage with your content and start (or continue) their journey with you.
In a time and budget driven society it can be tempting to ignore print because it at first seems too expensive to deliver when compared to digital routes.  However, a brilliant piece of print can have a great impact and bring immense returns!
We'd love to help you craft your next printed project.  Please contact us today to chat through the ways in which our experienced team could help you make an even greater impact on paper.
References/Acknowledgements:
Photo by Beata Ratuszniak on Unsplash
Contact Us