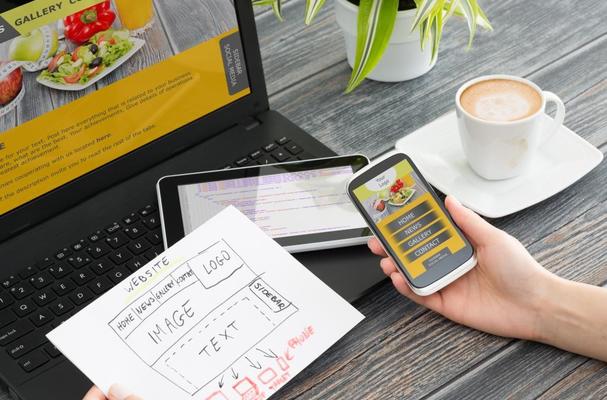 Why is a mobile optimised website important today?
By

Claire Fuller

|DigitalMarketingCreative |11 November 2016
Since the early days of the internet, technology has moved on immensely and it continues to do so! Gone are the days of websites only being viewed on large screens attached to desktop computers, today we hear that 4 out of 5 customers use mobile websites to make purchases and the majority of people view websites on smartphones and tablets as well as desktop computers.
With so much technology now available on a small screen held in the palm of a hand it's important to optimise your website so it remains appealing whatever platform it's viewed from.
Once you have decided on your website's main purpose and functions, selected the correct platform to build it on and written some compelling copy, it's important to ensure that your intended audience will be able to view it "in all its glory"!
It is possible to improve your website's visibility and appeal by ensuring that it is optimised for viewing on mobile devices. A mobile optimised website is designed to be suitable for viewing on smaller screens such as tablets or smartphones in addition to standard desktop PCs or Macs. A website that is designed for viewing specifically on a desktop computer may function on smaller devices but is unlikely to be as clear or user-friendly as you would like since the user will simply see a smaller version of the full size site, rather than a specifically optimised version for your device.
To view an example of the different appearances and functionality of a mobile optimised website designed and created by Yeomans, please visit www.habitatforhumanity.org.uk
Example of a website being displayed on a desktop computer:
Example of the same website being displayed on a mobile phone:
The following functions are apparent when an optimised website is viewed on a mobile device:
Large buttons – Make it easier to click as you are using a thumb rather than a mouse
Space between buttons – To avoid tapping a wrong button
Easy access to contact you – "Click-to-call" or "click-to-message" buttons so a visitor can easily and quickly make contact to find out more
Simplified content – No need to scroll across the page or overcrowding the page with information
Clear calls-to-action – Mobile users usually want to receive and process information quickly so your website should enable them to be informed and act quickly
Easy navigation – Mobile users should be able to perform the most important actions from the level of the homepage
5 reasons to create a website which is mobile optimised:
Mobile gets traffic – 1/4 of global web searches are done using mobile devices. Due to the way Google ranks websites if your site is not mobile optimised it will not be ranked on page 1 of Google searches
Increased conversions - 80% of shoppers admit that the majority of their mobile purchases are impulse-buys and they are more intrigued to purchase products if the website is mobile friendly
Mobile users are different - When mobile users access websites they usually want to receive information quickly which is easy to read
Better brand engagement - It is believed that people identify with brands more if they receive a satisfying mobile experience and this can encourage them to return to your website on a desktop later
Reduce your bounce rates - If your content is written specifically for a desktop computer and is not easily readable on a mobile device this may deter people from reading the information when they visit your website using their phone or tablet. Optimising your website for mobile devices can reduce the number of people that leave it after a few seconds because of frustration that the display does not automatically adjust for their device
For help with developing your new mobile optimised website, or advice on conversion of your existing site to improve the user experience on different devices, please get in touch with us.
References/Acknowledgements:
Contact Us